More ICBC Misinformation…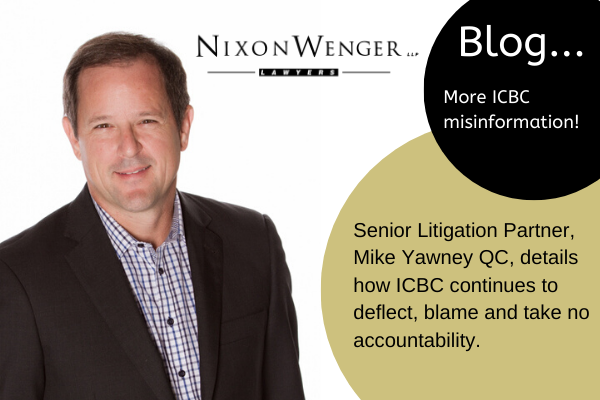 A recent court decision by Chief Justice Hinkson where the government's unilateral changes to the Supreme Court Rules without the usual consultation with the legal profession and the judiciary was found unconstitutional has resulted in more political rhetoric, ICBC excuses and misinformation. The Attorney General David Eby responded to the ruling by alleging that the government would now be out $400 million in revenue and would no longer have a surplus. He also alleged that ICBC paid out $1.9 billion to law firms (as part of a smear tactic to mislead the public as to lawyers and judges being the problem, not the actions of ICBC!).  We pay taxes to the government to fund it's operations; to suggest that a court case means no government surplus is absurd and exposes the real basis for ICBC: indirect taxation!
This misinformation has to stop.  ICBC's own employees have said there is no dumpster fire at ICBC and that the losses claimed are not correct. ICBC regularly uses "numbers" it creates to lobby the government to do it's bidding. For example, within the last year magically creating almost $700 million in "estimates for losses" with a stroke of a pen (by re-assessing claim exposures – allowing it to adjust up an exposure to create a picture of more financial loss).  From the last financial statement published by  ICBC in March of 2019, it has an arbitrary "change in estimates for losses" of over $1.2 billion. It also notes that it's revenues are nearly $6 billion dollars with total assets of over $16 billion….yet it claims that law firms were paid $1.9 billion with the impression that they are sucking the corporation dry!  This is simply misinformation to deflect responsibility! Neither Eby or ICBC have told you that litigated claims with law firms representing plaintiffs is only a small proportion of the claims it pays out in any given year; this isn't stated because they want the public to blame lawyers, judges and injured people for the high cost of premiums and not tell you the real truth of it's financial operation. ICBC doesn't tell you how it has created millions and millions of unnecessary extra costs by refusing to deal fairly with claims; running claims to trial that should resolve and costing the corporation significant extra costs.  I have many clear examples of this, in particular with two claims within the last year that went to trial;  ICBC's refusal to consider fair offers to resolve the claims has resulted in over $600,000.00 in unnecessary expense for the Corporation.  That is  only on two claims, there are many more examples of the same thing and it happens all the time. Right now ICBC's strategy is to run every claim to trial to increase the costs to help continue the blame game and deflection of responsibility.  
ICBC gets away with this because it is not accountable. It simply blames claimants, lawyers and judges…and doesn't take responsibility.  Ask yourself why we pay the highest rates in the country and why ICBC would lie about it's financial performance?  So it can continue to deflect responsibility and blame others… and carry on providing government with revenue that amounts to indirect taxation, while raising insurance rates.
Michael Yawney QC is a senior litigation partner at Nixon Wenger LLP, the North Okanagan's largest law firm. He has been a member of the Association for Injured Motorcyclists (AIM) for many years, on the Board of Governors for the Trial Lawyers Association of British Columbia, is a member of the Canadian Bar Association and has represented many personal injury clients. The opinions expressed herein are the opinions of the writer and are based solely on his views and experience over the many years he has practiced personal injury law in British Columbia.
https://www.nixonwenger.com/wp-content/uploads/2020/10/Nixon-Wenger-Logo-2.png
0
0
NW Admin
https://www.nixonwenger.com/wp-content/uploads/2020/10/Nixon-Wenger-Logo-2.png
NW Admin
2019-10-29 00:00:00
2021-02-19 00:24:42
More ICBC Misinformation…