The Ironically Named "Minor Injury Cap"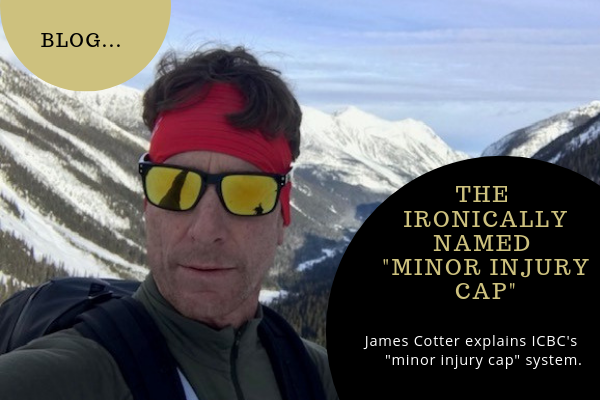 As of April 1, 2019 the BC NDP government has brought into force legislative changes to the way motor vehicle accident claims are handled in British Columbia.
Under our old civil law system a person injured in a motor vehicle accident was entitled to claim for losses he/she suffered due to the negligence of the other driver.  This included damages for pain and suffering, income loss and rehabilitation expenses.  This concept has been around for hundreds of years and is focused on making the victim "whole."  Each aspect of the victims claimed loss had to be proven based on the rules of evidence.  The majority of such claims would settle / resolve prior to going to trial on a compromised basis.  In fact, the majority of claims were so small that they would resolve directly between the accident victim and the insurance adjuster without any involvement of lawyers at all. 
This system was effective and fair for most years and ICBC was profitable.  It was a cash cow for many BC governments who sucked billions of dollars out of the company into general tax revenues.  In the recent past, in part due to mismanagement within ICBC, losses began to pile up.  The NDP has blamed personal injury lawyers for this sad state of affairs.  This has given the NDP government a reason to put into effect massive changes, influenced by the bureaucrats running ICBC.
This new program, effective as of April 1, 2019, has been masterfully marketed as a new system to process just the "minor claims" effectively and without the need for lawyers.  Such minor claims can only receive a maximum of $5,500.00 for pain and suffering.  Any other claimed losses associated with the minor injury would be decided by an online adjudicator, without an in person hearing and no set rules of evidence. 
On learning of the details of this new online means of "rough justice" for minor claims, I would suspect most people wouldn't be too alarmed.  After all, this only applies to minor claims.  How much loss and damage could arise from an accident where the victim has suffered bruising or a sprain or slight whiplash that has resolved after a few months?  I would suspect public sentiment supports that such minor claims should be resolved online and free up our courts for more substantial claims that deserve our full justice system.  It all sounds reasonable…
Well here is where the masterful marketing comes in.  What is being promoted to BC citizens as a "minor injury cap" system, is really a means to prevent 80% of all BC motor vehicle accident claims from proceeding to our civil courts.  In other words ALMOST EVERYTHING IS A MINOR INJURY!  The new legislation is difficult to decipher, but it appears to define a minor injury as; any abrasion, contusion, laceration, sprain or strain; pain syndrome; or any psychological or psychiatric condition; unless it can be shown that that condition has resulted in a serious impairment or permanent serious disfiguration.  A serious impairment means that the condition lasts greater than 12 month; that the accident victim cannot do the essential tasks of employment or study (despite accommodation); and the condition is not expected to improve substantially.  The legislation also identifies any whiplash injury, TMJ (jaw) injury, or a concussion (that does not result in incapacity) as being automatically a minor injury.
Based on the above definition of minor injury, it would appear that there will be very few injuries that do not meet that definition.  Most injuries will heal within 12 months, and it is the continuing chronic pain that is so disabling and interfering in victims' lives.   For instance, if you have a chronic pain syndrome arising from soft tissue injuries received in an accident, (not whiplash as those are automatically considered minor) even if those injuries continue well past 12 months, it will be considered minor if your employer can accommodate you at work.  It will also be considered minor if your doctor is of the view that in the future through rehabilitation, there will be improvement.  In my experience as a personal injury lawyer for over 20 years, most injuries that have resulted in a chronic pain syndrome would allow the accident victim to still perform some of his / her work duties, (albeit pain) and typically have a prognosis that the condition may improve in the future through various recommended attempts at rehabilitation.  Such injuries can be devastating for people and can last a very long time.  Under this new regime, such claims will be considered minor.  In fact most claims will be categorized as such.  This will mean that such accident victims will be subject to the online adjudication through what is called the Civil Resolution Tribunal (CRT), and will not be able to seek fair compensation through our courts.  This is a massive change which B.C. public is currently unaware.
Unfortunately, this system of "minor injury caps" is a prime example of government double speak.  The government will say that this new regime that is now in place since April 1, 2019 only applies to minor injuries, what they haven't told you is that…ALMOST EVERYTHING IS A MINOR INJURY!
 
James Cotter has been a trial lawyer for over 23 years, practicing in Personal Injury, Wills & Estates Litigation, Civil Litigation, Municipal and Health Law.
https://www.nixonwenger.com/wp-content/uploads/2020/10/Nixon-Wenger-Logo-2.png
0
0
NW Admin
https://www.nixonwenger.com/wp-content/uploads/2020/10/Nixon-Wenger-Logo-2.png
NW Admin
2019-05-24 00:00:00
2021-02-19 00:24:43
The Ironically Named "Minor Injury Cap"