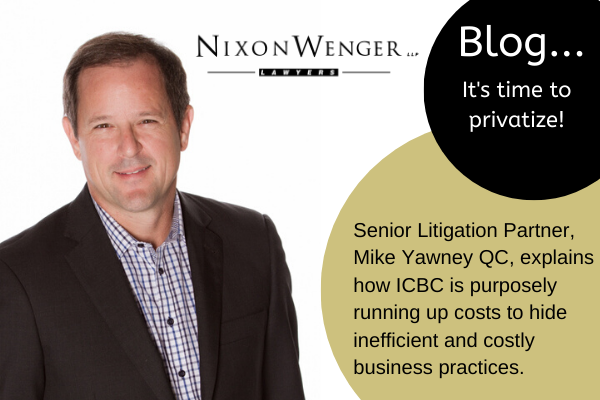 The vast majority of British Columbians are sick and tired of ICBC and its excuses.  We have been through a year of ICBC blaming claimants, the courts and lawyers for its allegedly poor financial performance.  At the same time insiders of ICBC have publicly said that there was no "financial mess" and that the corporation was actually going to make a profit in 2018.  ICBC used the excuse of financial performance to have the government change the legislation that applied to it so that it could unload costs onto private insurers and reduce claims costs by circumventing the law of damages with an injury cap.  And after doing that ICBC significantly raised rates for everyone.  
Over the last few years in my practice as a senior litigation lawyer I have dealt with ICBC on multiple claims where they have taken very unreasonable positions and caused matters to go to trial, only to cost the corporation hundreds of thousands of dollars more for a particular claim.  In some cases millions of dollars more.  Recently there was another example of this in a case that went to trial (and is now public record) called Bonneau v. Neate et al.  The ICBC adjuster took a very unreasonable position on damages, even though liability was admitted, and refused to put any more money on the table to resolve the claim.  The end result was that ICBC paid over $100,000 more than it could have resolved the claim for, and also will have to pay double costs on top of that.  The Supreme Court rules provide for an increase in costs where a party unreasonably failed to accept a reasonable offer to resolve the claim.  In the last few years the number of claims where ICBC has taken a similar position has increased significantly.  It appears to be an intentional plan to run up the costs and the only conclusion one can reach is that they're doing so because they have easy targets to blame: claimants, or injured people, the courts and of course lawyers.  It also allows them to hide their poor business practices because they can blame others and not take responsibility for their failed performance.
All of this supports the need to privatize auto insurance in British Columbia and get rid of the ICBC monopoly. At the end of the day, ICBC as a monopoly is just another form of indirect taxation of consumers in British Columbia.  The profits it has made over the years has gone to the government's general revenues and not been kept in the corporation.  Both main political parties are guilty of this.  The politicians do ICBC's bidding to cover up its inefficient business practices and give it more tools to take away the rights of injured people in B.C. and so there's no solution politically between either of the parties.  The simple reality is ICBC should be privatized and an open market for competition for auto insurance should be in place in British Columbia.  It works in other jurisdictions in Canada to lower auto insurance premiums; it should happen here.
Michael Yawney QC is a senior litigation partner at Nixon Wenger LLP, the North Okanagan's largest law firm. He has been a member of the Association for Injured Motorcyclists (AIM) for many years, on the Board of Governors for the Trial Lawyers Association of British Columbia, is a member of the Canadian Bar Association and has represented many personal injury clients. The opinions expressed herein are the opinions of the writer and are based solely on his views and experience over the many years he has practiced personal injury law in British Columbia.
https://www.nixonwenger.com/wp-content/uploads/2020/10/Nixon-Wenger-Logo-2.png
0
0
NW Admin
https://www.nixonwenger.com/wp-content/uploads/2020/10/Nixon-Wenger-Logo-2.png
NW Admin
2019-11-17 00:00:00
2021-02-19 00:24:42
It's time to privatize auto insurance in BC!